There are so many places and things to see and do when on vacation in our area. Here we made a list of Perfect Tahoe Cabin's top ten list of things to do in South Lake Tahoe.
1.  Go for a Nature Hike – Perfect Tahoe Cabin's Top Ten List
There are so many beautiful natural areas in our area to explore. For an easy family walk, the Taylor Creek Nature Trail is just a few miles down highway 89. This self-guided trail called the Rainbow Trail offers a wonderful insight into the flora and fauna of the area including a stream profile that puts you inside Taylor Creek. Click on the link for more information about the Taylor Creek Visitor Center.  See more information on the Rainbow trail in our Great Hikes Page of this website.
A short drive in the other direction to Tahoe Keys Marina, takes you to a beautiful riparian stream called Cove East, home to beavers, coyotes and a variety of birds.  Park your car and walk to the lake along this easy, dog-friendly trail.
And most convenient, just a block and a half away from our cabin, you can catch a nature trail that takes you through the forest and into a beautiful meadow.
Click on a photo below to enjoy a slide show of the convenient nature trail in our Tahoe Island Park Neighborhood.
Click on a photo below to enjoy photos from our personal collection at Cove East Nature Trail.
2.  Take Your Dog to Kiva Beach – Top Ten List
Kiva Beach is just two and a half miles East of the cabin along Highway 89 just past Tallac Historic Sites and is known as South Lake Tahoe's premier dog-friendly beach.  Dogs must be leashed (at least when others are present).  The Forest Service offers doggy bags and disposal bins for pet waste.  It's a great place to spend a family day at the beach or an early morning romp with your dogs.
3.  Rent a Kayak and Tour Emerald Bay – Top Ten List
Emerald Bay is one of the most photographed places in the world.  There are many ways to experience it, but one of our favorites is to do a day kayak from Kiva Beach to Emerald Bay and back, about 10 miles round trip.  Due to the rocky shore, a kayak is one of the only ways to experience Fannette Island, the only island in Lake Tahoe, famous for the stone "Tea House" that sits atop the island.
Vikingsholm State Park is also accessible by Kayak, or you can hike a mile down a road at the top of the cliff near Emerald Bay Falls to Access this unique mansion that is part of Emerald Bay State Park.  Tours are available.  Check the park for availability.
4.  Visit a State Park – Top Ten List
Our cabin is just seven to nine miles from two important California State Parks.  Emerald Bay State Park offers tours at Vikingsholm, a unique Scandinavian mansion nestled along the shores of Emerald Bay.  Just a couple of miles north, day use areas are available at D.L. Bliss State Park, where visitors can enjoy a day at the beach or hike along the spectacular cliffs of the Rubicon trail.  Please note that dogs are allowed on a leash on the beach, but are not allowed on the trails.
5.  Spend the Day at Chimney Beach – Top Ten List
For a taste of the southeast side of Lake Tahoe, Chimney Beach is located about 15 miles east of Stateliness, the Nevada side of the South Lake Shore.  There are two small parking lots about 2.6 miles South of Sand Harbor off Highway 28.  This is a wonderful place to spend a sunny afternoon with feet in sand enjoying a picnic lunch.  The hike is about 20 minutes down, and double that on the way back up.  And oh, the sunsets that sometimes grace the landscape!  Chimney Beach receives its name due to the lonely chimney still remaining from an earlier era.  This is a dog-friendly destination, and due to its sunny location, can be a late Spring or late Fall respite before the heavy snowfall hits.

6.  Go to a Brew Pub – Top Ten List
South Lake Tahoe is becoming a mecca for craft brew pubs, with several new locations popping up within the last couple of years.  An article in the Tahoe Tribune recently outlined the growing brew scene in the area.
There are two great options for an afternoon or evening out within  a mile from the cabin.
South Lake Brewing Company is a new local brewery featuring a large family and dog-friendly atmosphere where beer enthusiasts can enjoy bean toss, table tennis, a giant Jenga game and other fun activities.
Lake Tahoe Aleworx is a unique business that specializes in tasting and sampling local and imported brews.  Each connoisseur purchases the use of an electronic wrist band allowing you to purchase as much of each ale or wine choice as you care to drink by the ounce.  Aleworx has a dog-friendly outdoor area, complete with fireplaces and heaters for the winter, and features local musicians and artists in their courtyard.  It is located less than a mile from the cabin in the "Y" near Big Five.
7.  Enjoy a Gourmet Meal – Top Ten List
For an exquisite fine dining experience, we are pleased to recommend Evan's American Gourmet Cafe.  Reservations are required, so call them well ahead at 530-542-1990.  Evan's is located less than a mile from the cabin on Emerald Bay Road.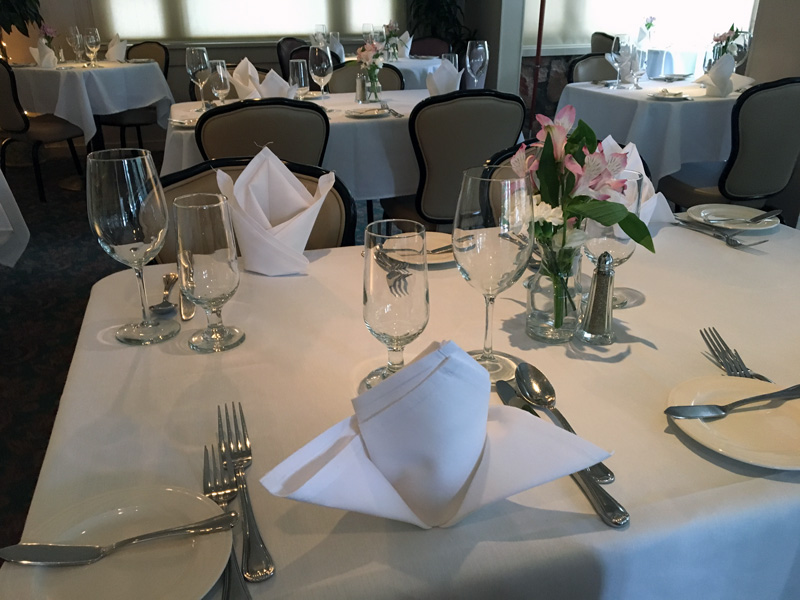 Evan's Gourmet Cafe is situated in a vintage Tahoe cabin surrounded by towering pine trees. Evan's American Gourmet Cafe is acclaimed as South Lake Tahoe's finest restaurant.  Evan's features a blend of cuisine styles from around the world. It is the top Zagat rated restaurant in the Sierras!
Evan's is open daily starting at 5:30pm
Evans is located at:
536 Emerald Bay Road
South Lake Tahoe, California, USA
8.  Climb Mt. Tallac
The Mount Tallac hike is truly a bucket list hike for those who want to experience the grandeur of the Sierras from one of the highest peaks in the area.  Allow yourselves plenty of time for this one.  We recommend starting very early by 6:00 or 7:00 in the morning.  Pack plenty of water, a lunch, a light jacket and hiking boots with plenty of toe room for the trip down.  This hike is a "butt kicker", so be prepared for sore muscles unless you are in tip-top shape.  Dogs are allowed on the trail.  However, the loose shale on the trails can crack and injure your dog's delicate feet, so we recommend only taking dogs that have been trained to wear doggy boots on this hike.  Usually this hike is inaccessible until mid-to late Summer due to snow, so be sure to check for conditions before you go.
9.  Learn About the History of the Area – Top Ten List
10.  See a Show at the Casinos – Top Ten List

As you cross into Stateline Nevada, a world of nightlife abounds.  Plan in advance to see a show at one of the casinos at Stateline.  Click on the links below to see what's happening while you'e in Tahoe.